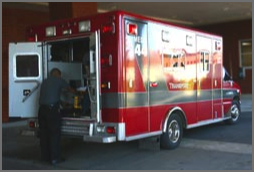 Critical Care Transport
started in 2000 with two ambulances. We were the first private EMS service in New Albany, Ohio.

We moved to our current location at 2936 East 14th Avenue in 2003. We also became the first true bariatric capable service in Central Ohio.

In 2007, we implemented a full back injury prevention program by utilizing Stryker Power Pro cots on all
of our ambulances. We use a Tank Boss oxygen lifting system.

In 2009, we were honored to receive the Patriot Award,
given by the National Committee for Employer Support of the Guard. This award recognizes employers who support a strong National Guard and Reserve force.
This award has to be recommended by an employee who serves in the armed forces. Our award recognizes our high number of employees who have served in the military.

We are the largest purchaser of
ICU compatible ventilators, the
HT50, in Central Ohio. We currently have a ventilator on each of our ambulances.

Today, we staff a fleet of ambulances and wheelchair vans, including several non-transport emergency response vehicles. We are a preferred provider for The Ohio State University Hospitals and we provide emergent and non-emergent transports for numerous assisted living and skilled nursing facilities.


We are the first private EMS company in Central Ohio to be a totally tobacco free workplace.


We have consistently maintained an A+ rating with the Better Business Bureau.